Brian McCormick has conducted basketball clinics around the world over the last two decades and has presented at basketball clinics, strength and conditioning conferences, coaching conferences, and sports psychology conferences.
McCormick directs four different clinics:
180 Shooter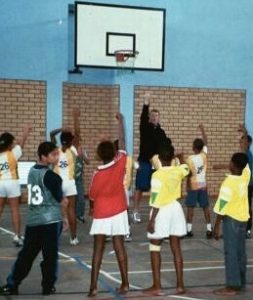 180 Shooter clinics focus on shooting. Clinics can be as short as two hours and as long as 2-3 days. The content differs based on the participants and the duration, but is based on the book (180 Shooter) and the five steps to shooting 180%.
180 Athletic Development
McCormick has a PhD in Exercise and Sports Science, has worked as a college strength & conditioning coach, and wrote his dissertation on plyometrics and lateral movement. 180 Athletic Development clinics focus on basketball developments, starting with foundational movements such as running, jumping, landing, and stopping and processing to basketball specific movements such as hockey stop, crossover steps, hip turns and more. Depending on facility availability, the coach, and the athletes, McCormick also tests athletes, teaches basic resistance training exercises, and writes annual plans for athletes and teams.
Hard2Guard
The longest running clinics, the Hard2Guard clinics are based on individual skills. Clinics can be divided into perimeter and post or combined into one group, depending on the group. Clinics typically run 3 hours per session and emphasize individual skills such as creating space, finishing, effective use of the dribble, moves off the catch, and some shooting.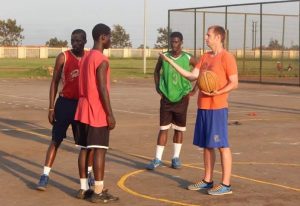 Playmakers
The Playmakers clinic emphasizes tactical skill development and focuses on decision making with and without the ball. Players play in the half-court and full-court, and instruction focuses on spacing, disorganizing the defense, using and setting screens, getting open, shot creation, and more.
COACHING CLINICS
Chicago October 2015
Regina, Saskatchewan, October 2015
Montreal, Canada October 2015
Nairobi, Kenya August 2015
Jinja, Uganda August 2015
Basketball Manitoba Super Conference October 2014
Basketball B.C. (British Columbia) Youth Coaching Summit, September 2012
Accra, Ghana August 2012
Amherst, Massachusetts October 2011
Schodack, New York October 2011
Bangalore, India July 2011
Basketball B.C. Coaches Super Conference October 2009
Montreal, Canada March 2008
Cape Town, South Africa May 2001
BASKETBALL CAMPS
Nairobi, Kenya August 2015
Jinja and Kampala, Uganda August 2015
Midland, Michigan October 2014
Bellaire, Michigan July 2013 & 2015
Placerville, California January 2013
Chicago, Illinois October 2012, 2015 and April 2012, 2013, & 2014
Accra, Ghana August 2012
Schodack, New York October 2011
Bangalore, Chennai, and Kochi, India July 2011
Boston, Massachusetts April 2011
Boulder, Colorado January 2011
Yellowknife, Northwest Territories, Canada July 2010
Idaho Falls, Idaho June 2010
Rabat, Morocco June 2009
Port of Spain, Trinidad & Tobago July 2007
Chengdu, China August 2006
Sacramento, California June 2006
Thessaloniki, Greece July 2005, 2006
Skopje, Macedonia July 2005
Cape Town, South Africa May 2001 & March 2002